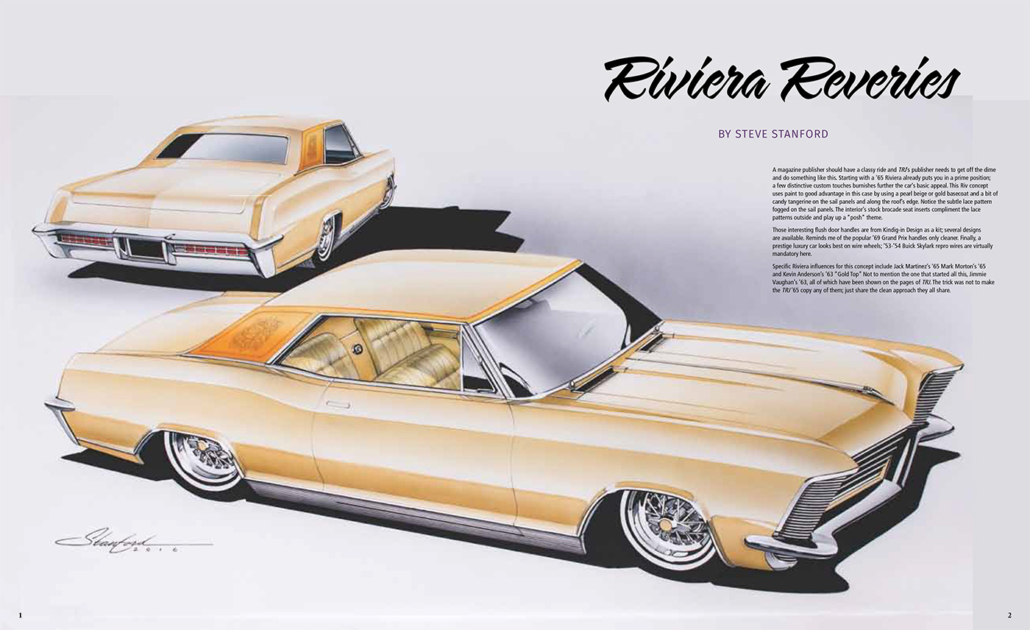 I've always had a thing for Steve Stanford … His drawings are so perfect and no one manages to grasp the "soul" of a car better than he does! His grandiose art is to draw a car as if the car itself had been asked what it would look like!
I am as you all know, a Buick Riviera fan. Or rather a Riviera 65 fan! When I saw the drawing of a Rivieras 65 by Steve Stanford in Rodder's #71, I knew I must have the original drawing. I got in touch with Rodder's in good spirits and asked how I could come up with this drawing… I was almost laughed at and they told me that I had no chance to get this drawing because it was privately owned.
This somehow made me sad… But anyway, I will not give up and find another way to get a drawing from Steve Stanford!
For those who doesn't know Steve that well, check this cool youtube video:
https://riviera65.com/wp-content/uploads/2017/01/Stanford-Opener.jpg
856
1400
Schmiddy
http://www.riviera65.com/wp-content/uploads/2017/02/logo_riviera65_small-1-300x146.png
Schmiddy
2016-11-09 18:26:18
2019-04-09 19:31:26
Rodder's issue #71 – Rivi-Design by Steve Stanford